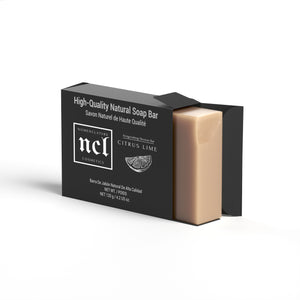 Nomenclature Cosmetics
Invigorating Shower Bar - Citrus Lime
Sale price Price $10.00 Regular price Unit price / per
Introducing our newest addition to your daily self-care routine!  Our handcrafted, all-natural, Invigorating Shower Bars!  Infused with the highest quality botanical ingredients, these nutrient-dense cleansing bars make for a truly indulgent experience.
Our luxurious Shower Bars are specially designed to gently cleanse without stripping your skin of its natural moisture. Every Shower Bar is made from the highest-quality natural ingredients, carefully selected to ensure that your skin receives nothing but the best.  Formulated with nourishing botanicals like avocado oil and shea butter, our Shower Bars create a silky, smooth lather that envelops your skin in a soothing embrace.
The rich lather feels just as indulgent as your favorite body wash and provides a luxurious cleansing experience that leaves your skin feeling soft, supple, and refreshed. Unlike other soaps that can leave your skin feeling dry and tight, our shower bars leave your skin with a silky finish that you'll love to touch.
With our carefully selected blend of natural botanical ingredients, these Shower Bars are free from harsh chemicals and synthetic fragrances, making them the perfect choice for those with sensitive skin. Whether you're looking to unwind after a long day or simply indulge in a little self-care, our all-natural soap bar is the perfect addition to your daily routine.
Skincare is for your body too!
Our Citrus Lime Shower bar:
Helps improve the look of dark spots for a clearer and brighter complexion.
Can help minimize the a of existing scars and hyperpigmentation.
Gently eliminates dirt, oil, and makeup.
Helps remove dead cells and impurities, leaving behind smooth, moisturized skin.
Contains fatty acids that provide vital nourishment to the skin.
Full body soap
A wonderful addition to your natural and organic skincare routine. 
Made without using any artificial colorants, parabens, phthalates or sulfates, suitable for all skin types, and can be gentle enough for sensitive skin.
Olea Europaea (Olive) Oil, Cocos Nucifera (Coconut) Oil, Elaeis Guineensis (Palm) Kernel Oil, Water / Aqua / Eau, Sodium Hydroxide, Butyrospermum Parkii (Shea) Butter, Citrus Aurantifolia (Lime) Oil, Ricinus Communis (Castor) Seed Oil, Goat milk.
Net weight of 140g